Hi friends

Very often in every business, whether its SME or MNC the management gets into dilemma what measures to focus at. Is it financials or is it marketing? Then managers especially the top ones, are always in constant hurry to get over with all the report studies. I worked in medium sized company as well as world renowned MNC's like Philips and GE but it was all same. Higher you move, more load of reports get on you. But, the question is, is it worth that effort? Why can't be simpler and leaner reporting system? Even lean operations experts find themselves juggling with this scenario. The answer to these problems lies in Balanced Score Card Approach.
What is so special about it?
The name itself suggests, it creates balance. It focuses on four prime perspectives, i.e.
· Financial Perspective-How do we look to our shareholders?
· Customer Perspective-How do customers see us?
· Innovation and learning Perspective- Can we continue to improve and create value?
· Internal Business Perspective-What must we excel at?

The reason is quite simple; all the above perspectives together make the heart of the company. But, at the same time, some are leading indicators while others are lagging indicators. The company can't have strong financials in the long term, if we are loosing our customer perspective. Also, we will get beaten overnight by some e-commerce company, if we don't focus on Innovation and Learning perspective. Also, its very important to choose which core competency to develop before you are having sleepless nights, due to impending strategic inflection point.

So, balance card is a tool that creates a balance between all the mentioned four perspectives as well as between long term and short term perspective. Its very easy at times, to have good customer excellence, and screwing your financials, and vice versa. But, business can run only if there is balance.

So, balance card gives us a strategic tool, in which we create metrics which will govern the key perspectives. The metrics can vary from company to company.
The typical metrics are:

Financial Metrics
· ROI
· Growth rate of profit
· EPS


Marketing Perspectives
· Growth rate in sales revenue
· Growth rate of customer base
· Customer Satisfaction rating
· Growth in market share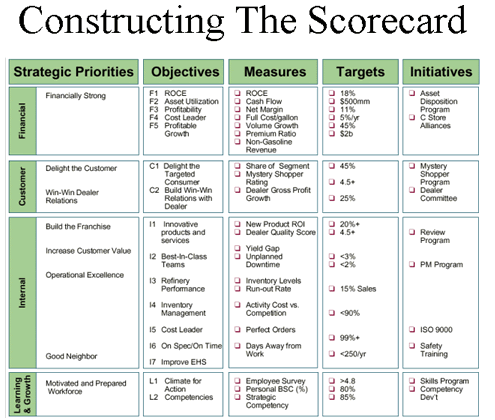 Internal Business Processes Perspective

· Manufacturing excellence
· Sales Excellence
· Logistics Excellence

Growth and Learning Perspective
· Reduction in New Product Introduction cycle
· Reduction in throughput time
· Reduction in cycle time

Now these metrics act as MIS for top management. And its drilled down at every department and every level to align the actions of everyone in the organization to the objectives of the business.

Further these metrics are supported by the measures, targets, and initiatives in front of each metric. And finally, these metrics enable the whole business activity.